WELCOME!

CHRISTOPHER NORTON WORKSHOP
All teachers and students are welcome to attend a workshop with Christopher Norton  Thursday, October 26th from 1:00 to 3:00 p.m. in the Theatre Gallery of the Public Library, Main Branch.
The fee is $20 for teachers and $10 for students. Admission will be received at the door.  Please arrive at 12:45 p.m. so that we can start on time.  
His presentation will cover the following topics:  his approach to composing; introduction to his compositions, and introducing students to improvisation in the lesson.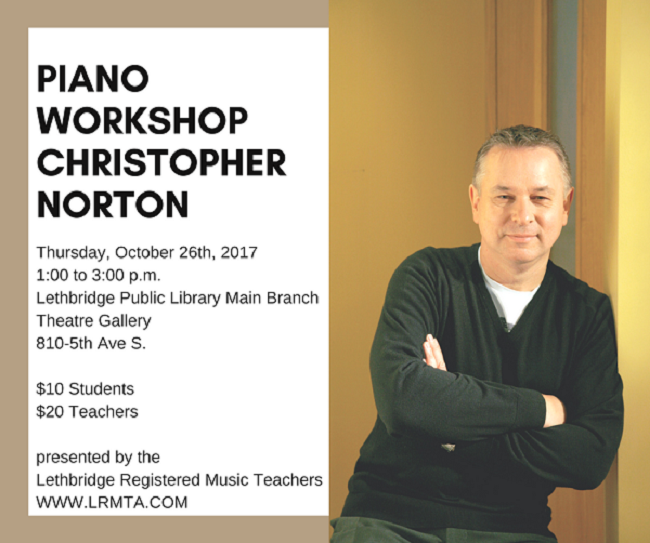 ABOUT:
LRMTA is a branch of THE ALBERTA REGISTERED MUSIC TEACHERS' ASSOCIATION
ARMTA is a professional organization representing and serving approximately 400 music teachers across the province. The organization began in 1932 as a group of music teachers who were interested in enhancing the quality of life by promoting the love and knowledge of music through teaching and by providing cultural events of a high standard in the community. These became our stated goals and objectives when we became a Registered Professional Association in 1982.
The Lethbridge branch of the Alberta Registered Music Teachers' Association was formed in 1942 and is part of a Canada-wide federation of music teachers encompassing ten provinces, with over 3,200 members. To be a member of the Association, teachers must hold a degree or diploma from a recognized university or conservatory or meet the necessary qualifications set down by the registering province. This ensures a high level of training and a commitment to professionalism. The aim of our organization is to provide leadership in private music education in our community by encouraging and offering the highest calibre of music education possible and by promoting high standards of music in our community. Currently the Lethbridge branch has 25 members from Lethbridge and the surrounding area who give lessons in piano, theory, pedagogy, composition, strings, voice, woodwinds, organ, trombone, tuba, euphonium, and ear training. Our branch presents a number of student recitals each year and organizes workshops and master classes for students and teachers in the Lethbridge area.